Earth Systems maintained its spot (489) in the Engineering News-Record ENR Top 500 for 2016.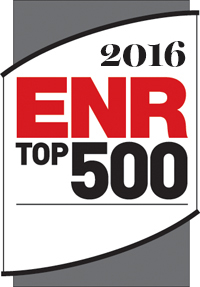 The top Design Firms list is published by ENR every year. It ranks the 500 largest privately and publically held design and consulting firms. It is measured on the dollars billed during the previous year (gross revenues).
"We have office locations solely in California," states Craig Hill, CEO of Earth Systems. "Our performance in this ranking stands up to other companies of similar size having a greater geographical market share. This points directly to the quality of our clients and projects. It also speaks volumes about the Earth Systems engineering team and staff."
The rankings include:
general contractors;
design firms (architectural and engineering firms);
specialty contractors;
construction management firms;
design-build firms;
environmental engineering firms;
program management firms;
international design firms,; and,
international contractors.
Overall, the market for construction, design, and engineering services is healthy, according to the ENR Top 500 article.
Engineering News-Record (ENR) is a weekly magazine providing news, analysis, data, and opinion for the construction industry worldwide. As a service to its readers, it compiles and publishes an good amount of data and information regarding building material prices and construction labor costs. The magazine connects the diverse market sectors of the construction and design industry with specific coverage on business management, design, construction methods, technology, safety, law, legislation, environment and labor. It was founded by in 1917 by the McGraw-Hill Publishing Companies. ENR is now owned by BNP Media, a leading business-to-business median company.